Clear and Frosted Glass Office Partitions
Glass Office Partitions
Clear and Frosted Glass Office Partitions UK, Free Advice Design Construction Installation. Plexi Glass Office Partitions For Offices Warehouses and Industry UK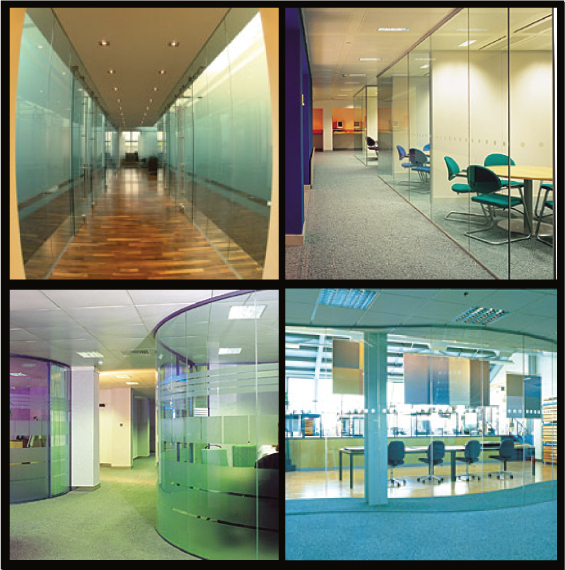 Glass Office Partitions
Free Phone Advice - Site Visits - Free Design - Quotes - Installation

Interior Design Developments offer a choice of glazing details. single, single offset and double glazing sections are available to provide options to suit both design and cost constraints. 25mm and 15mm venetian blinds are available in a wide range of of colours and are easily accommodated within the system with the use of switch posts.
Doors are available in natural wood finishes, including Ash, Koto, Oak, Cherry, Maple, Beech, and Sapele and can include any shape or size of vision panel or lipping.
To compliment this range of glass office partitions, the range of ironmongery offers a wide choice of door furniture in a variety of finishes.
We can also offer suspended ceilings, lighting, heating, air conditioning, electrical works, and floor coverings etc.
We at Interior Design Developments do not simply manufacture and supply clear and frosted glass office partitions, we offer a full support service taking clients from the initial phone enquiry through to complete on site installation. Our qualified engineers will advise you initially by phone, make a site visit and make a complete survey, produce clear drawings, calculations, provide detailed quotes and obtain all necessary building regulation approval on your company's behalf.
Next Step:

For FREE advice, a site visit, a quote or to place an order
please phone Mike Pusey on:

0800 169 6044

Interior Design Developments
The Design Studio
FREEPHONE: 0800 169 6044
Fax: 07970 081679


email: info@officepartitionsystems.co.uk

For FREE advice, on which partitioning system will best suit your needs or to arrange a free site visit, please phone Mike Pusey on
0800 169 6044
NOW!