Office Partitions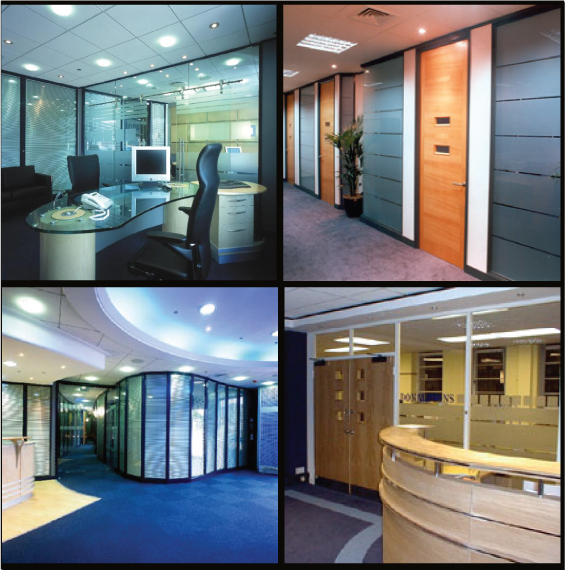 Office Partitions UK
Office Partitions UK, Free Advice Design Construction Installation.
Office Partitions For Offices Warehouses and Industry in the UK
Free Phone Advice - Site Visits - Free Design - Quotes - Installation
The result of extensive research and development has provided this superb state of the art office partition system, offering those people wishing to have a new office system installed the vertical solution in today's discerning market.
These beautiful office partitions have been designed to suit many different environments. Their styling provides gently radiused upright posts and door frames with a choice of either recessed or flushed skirting. This office partition system is available in an almost unlimited choice of RAL or BS colour finishes to complement any interior design scheme.
We can also offer suspended ceilings, lighting, heating, air conditioning, electrical works, and floor coverings etc.
We at Interior Design Developments do not simply manufacture and install office partitions, we offer a full support service taking clients from the initial phone enquiry through to complete on site installation. Our qualified engineers will advise you initially by phone, make a site visit and make a complete survey, produce clear drawings, calculations, provide detailed quotes and obtain all necessary building regulation approval on your company's behalf.
Next Step:

For FREE advice, a site visit, a quote or to place an order
please phone Mike Pusey on:

0800 169 6044

Interior Design Developments
The Design Studio
FREEPHONE: 0800 169 6044
Fax: 07970 081679


email: info@officepartitionsystems.co.uk


For FREE advice on which partitioning system will best suit your needs or to arrange a free site visit, please phone Mike Pusey on
0800 169 6044 NOW!
Our Suppliers
Muraspec Wall Coverings
Tektura Wall Coverings